Deal: Amazon is now selling the Sony Xperia Z5 at a $100 discount
11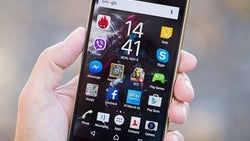 Now that Sony's new
Xperia X
line-up is getting ready to hit the consumer market, it's time for the company's current-generation flagship, the
Sony Xperia Z5
, to be offered at discounted prices. That's exactly why we hardly find it surprising that Amazon is now selling the Sony Xperia Z5 at $499, down from the handset's standard price of $599.
Although the Sony Xperia Z5 was launched back in late 2015 in most countries around the world, the last iteration in the Sony Xperia Z series took its sweet time to land in the US. By February 2016 when
Sony launched the Xperia Z5 in the US
, the handset had already lost some of its appeal. As such, it was surprising to see Sony pricing the device at $599.99, and perhaps even more surprising to see the handset maintaining its original price so far into 2016.
At $499.99, the Sony Xperia Z5 is a decent smartphone, although many will still find the price to be a bit on the steep side. The hardware specifications include a 5.2-inch display with a resolution of 1080 by 1920 pixels, a Qualcomm Snapdragon 810 chipset with 3GB of RAM, 32GB of microSD-expandable internal storage, a 23MP primary camera, a 5MP secondary shooter, and a 2900mAh battery. On the software side, the Sony Xperia Z5 launched with Android 5.1 Lollipop on board, but the handset has since been updated to Android 6.0 Marshmallow.
If this seems like a tempting deal to you, make sure to head on over to our detailed
Sony Xperia Z5 review
to learn more about the handset's strengths and weaknesses.
What do you guys think, is the Sony Xperia Z5 worth a cent under $500 now that devices such as the
Samsung Galaxy S7
or the
HTC 10
offer much more smartphone at an only slightly higher price?