Deal: 400GB SanDisk microSD card drops under $100 for a limited time, save $150
17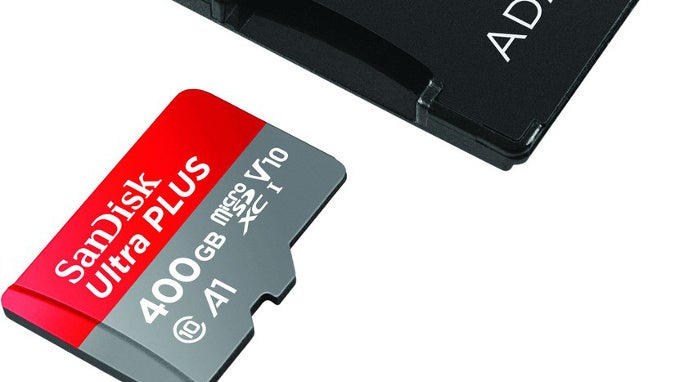 SanDisk's 400GB microSD, also known as the 'helluva-lot-of-cat-pictures-card'
If you're looking to add a bit more storage to your mobile device, today's deal is one you'll not want to miss. For a very limited time, Amazon has a 400GB SanDisk microSD card up for sale at the very agreeable cost of $99.99.
Cloud-based storage has made plenty of headway over the past few years, and there are many benefits to having files securely housed through such systems. But purists and power users tend to enjoy having lots of on-board space
just in case
, a point that Samsung has been seeking to drum home as it markets its shiny new '1TB-ready'
Galaxy Note 9
. Suffice to say, plenty of consumers still prefer to have swathes of storage in their pockets, and if you'd count yourself among this group of serial hoarders, you'll surely be interested in today's deal.
Per the Amazon listing, the SanDisk Ultra 400GB micro SDXC UHS-I boasts a saving of $150 on the regular $250 price.
Released a year ago
, this particular unit boasted the most capacity of any microSD card at the time, though has since been eclipsed by
a 512GB effort
from rival firm Integral Memory, with other firms including PNY having since jumped on the bandwagon. Still, where the new fleet of 512GB cards will set you back $350 or thereabouts, the 400GB SanDisk offers a still-generous hump of storage for much less money. Yes, you lose out on that extra 100 gigs or so, but you get considerably more bang for your buck.
Even if 400GB (plus whatever your device's default ROM provides) seems like overkill, apps and games are getting larger all the time, so it never hurts to have that extra breathing room. At the time of writing, this deal has about 12 hours to run, after which the cost will presumably rise again to $250. Thus, if you do fancy taking advantage, you'll need to move promptly.
Before you jump the gun and hand over your hard-earned cash, though, do make certain that the gadget you intend to kit out with this microSD can actually make use of it. Some devices, particularly older / lower-end models, are not designed to handle newer, higher-capacity microSDs. While you could always utilize the card in a future device, it's every geek's nightmare to unbox new hardware that doesn't provide immediate use, so be sure to double-check before pulling the trigger. It's also worth noting that the microSD does come with an adapter, so you can easily slot it into your camera or computer with no hassle.
Will you be picking up an extra 400GB for your smartphone, tablet, or other treasured gizmo? Let us know in the comments below.