Dead Trigger is the most beautiful mobile game ever, read our review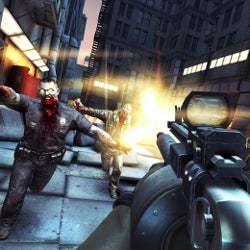 Czech Developer MadFinger Games first gained prominence with its Samurai and Samurai II games, which were cartoon-style top-down third-person melee action titles. However, things became much more serious when MadFinger released its ShadowGun – third-person action cover shooter in the style of Gears of War. Even though it was similar to an already hit game for PC and consoles, though, doesn't mean ShadowGun was a mobile clone. It felt like an original and self-sustained title. What drew most attention towards the game was its amazing graphics, courtesy of the cross-platform Unity 3D engine.

After the great success of ShadowGun, it must have been clear for MadFinger that it has to keep those spectacularly-looking games coming, and not go back to the toonish realm of Samurai. Enter Dead Trigger, the latest hit title of the developer, which aims to deliver even more amazing graphics, right on your phone or tablet.



The good



In contrast to ShadowGun, MadFinger's new title is

a first-person (zombie) shooter

. And boy does it look awesome! This has to be the

most visually-impressive game on a mobile device ever

. Actually, it'd be safe to say that Dead Trigger for iOS and Android is what Doom 3 was for the PC. For those who don't know – it revolutionized the way games look. It's true, Gameloft's NOVA 3 is also quite a looker, but its colorful and somewhat flat-looking objects can't really measure up to the level of awesomeness found with Dead Trigger's realistic lighting effects and detailed environments.

Although it enters a market full of zombie games, Dead Trigger does feature

a story of its own

. In short, things don't seem to be going very well with the world in 2012 (sounds familiar?). These are times of great economic collapse, and the world's population is rising against its rulers. However, the real rules of the world who happen to play behind the scenes are making a quick escape, leaving everyone to die from a strange virus. Not everyone dies, though – many turn into zombies, while very few people actually survive (thankfully, you are among them). The story isn't anything unheard of, but it's good enough to keep you interested.

Dead Trigger can be played absolutely for free on Android, but it offers lots of content that can be bought via

in-app purchases

, like special items, weapons and abilities. Some items can only be purchased this way, but others are available for virtual money, that you're making while playing the game.



The bad



As with every other thing in this world,

Dead Trigger isn't perfect

. Although character animations for the game are made using motion-capture, and are generally very good, there were some instances when we saw some glitches, although nothing that can ruin the experience.

It also depends on your preferences when it comes to games, but we guess there will be many who won't be impressed by Dead Trigger's somewhat small levels. In this respect, Dead Trigger isn't a continuous game like NOVA 3; instead, it's divided into small episodes.

Conclusion

With Dead Trigger, MadFinger hasn't simply created a tech demo. It has created a full-featured game with amazing graphics and atmosphere. Although the missions are a bit short for our taste, they still provide a lot of fun. Probably the coolest thing here is that in addition to the missions following the main storyline, Dead Trigger also features unlimited, random-generated levels of a few different gameplay types. Thinking about it, that's an absolute steal when you know that the iOS version costs a buck, and the Android one is free. Everyone should buy at least several in-app purchasable items as a big "Thanks!" to the developer, for bringing us this amazing mobile game.


Download Dead Trigger: Android (free) | iOS ($0.99)
Dead Trigger Video Review: