Data billing error at SaskTel may result in some customer bills hitting $100,000
3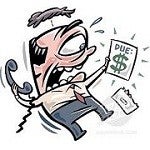 The Canadian carrier announced that recent system upgrades are responsible for the problem, which it expects may affect about 9,000 of its subscribers. Customers may see data charges on their bill which range from a few cents to as much as $100,000 due to erroneous billing of Saskatchewan data at US data rates.
SaskTel is Canada's fourth largest carrier and has been preparing its network for LTE deployment in early February 2013. Along with the hardware installations, upgraded system installations are apparently the culprit behind the error.
The good news is that SaskTel is proactively working on issuing automatic credits to customer accounts with incorrect data billing. If you are in the great white north, and your billing cycle fell between November 23rd and the 29th, and you are affected by the problem, SaskTel will call you and send you a letter outlining how the error is being corrected. December bills will be automatically adjusted, payments to the November bill will not be required. Late fees and interest will be waived and the correct amount for November will carry forward to December.
If you are set up on an automatic payment arrangement, no payment will be processed, the correct November balance will carry forward and normal billing will resume in December with no extra fees.
source:
SaskTel
via
MobileSyrup