Darma is the smart cushion that keeps your vitals in check while you're just sitting around
3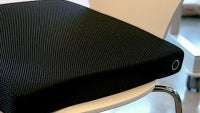 Everything goes "smart". Yesterday, we saw the smartphone-connected
sports shirt
. Last week we saw
smart headphones
. At the pace we're moving at, it's only a matter of time before the kitchen-sink goes smart as well. Until then, behold the Darma smart cushion! It's a legitimate piece of backside-supporting mini-furniture that gives away you heart rate, breathing patterns, and sitting posture to your iPhone via Bluetooth.
The Darma has a mission unlike any other cushion out there - its mission is to actually make you not sit in it forever. Using in-built sensors, it detects when you sit for too long, assume a poor posture, and otherwise predispose yourself to an aching back. Darma will then try to correct you with a notification - stand up and stretch, don't slouch, don't stress over work. It will also generate reports so you can see how well you are doing over time.
Darma runs on a battery that's fit inside the cushion and lasts a month when fully charged. And while the cushion is iOS-only for now, an Android app is planned for the future too.
The world's first smart cushion will be ready for a Kickstarter campaign in June. The final price is expected to be $250, but early backers will be treated to a $100 discount.
source:
Engadget