'Damn You Auto Correct' picks 2012's 11 funniest texts
40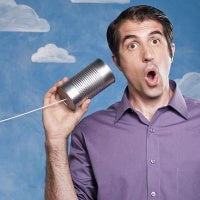 Texting someone is risky not only when you are driving. It is pretty dangerous if you are using the auto-correct function on your device. Things can get messy when the keyboard starts taking the wrong guesses, and sent to the wrong person, it can all turn out from hilarious to tragic.
'Damn You Auto Correct' brings the hilarious, and now it has posted its selection of 11 funniest texting mishaps for 2012. The ranking is based on shares, Facebook likes, tweets, comments and so on.
We won't spoil the fun and just throw all of them in a slideshow below, and we'd love to hear your auto-correct stories below, do you have any?
source:
Damn You Auto Correct
11 funniest auto-corrected text messages for 2012