DROID owners begin to receive FRG22D Froyo update
13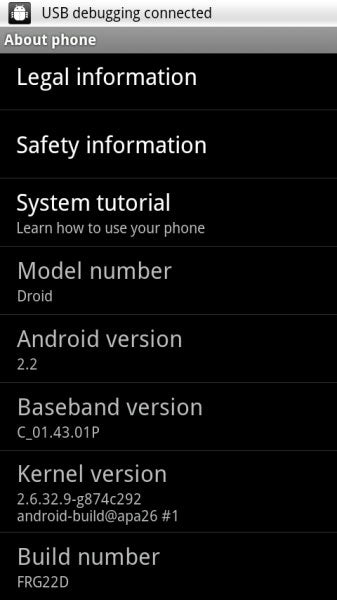 Last month we
reported
that owners of the first-gen Motorola DROID were going to receive their Froyo upgrade in two parts. The first part, build FRG01B, was received by DROID owners via an OTA upgrade during the middle of last month. While this build brought plenty of Android 2.2 capabilities to the handset, one thing it did not bring was the ability to install Adobe Flash Player 10.1. For the 2009 Time Magazine's Gadget of the Year to be able to play Flash, the phone had to be loaded with Android 2.2 build FRG22D.
Once again, it was a waiting game for DROID owners as rumored launch dates for the second update came and went without a peep from Verizon. But we are happy to report that today, some units have received the second half of the upgrade. Once your DROID has received the newer build, you should be able to head over to the Android Market and install the Flash Player.
Ironically, while many Android owners have been excited about the possibilities of running Flash on their handset, we
reported
today that being able to view videos, ads and games using Adobe's software may not be the experience that everyone was expecting. At least all Motorola DROID owners will soon have the chance to make their own opinion about it from personal experience.
Motorola DROID Specifications
|
Review
Thanks Audrey F. !