CyanogenMod-based OnePlus One to feature "the best components and 2014 flagship specs"
10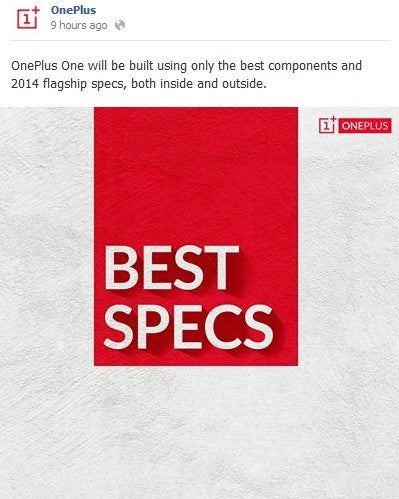 OnePlus, a new Chinese company established by a former Oppo exec, has big plans regarding its first smartphone. As we already told you, the smartphone is called
OnePlus One
, and should be released in the second quarter of this year, offering an enhanced version of the Android-based CyanogenMod.
Last we heard, OnePlus was confident that its handset's "more attractive than just about any phone on the market, with the exception of maybe the iPhone." Now the company took to Facebook to announce that the OnePlus One "will be built using only the best components and 2014 flagship specs, both inside and outside." That's all that's been revealed for now, but we can imagine that the new handset will perhaps have a Quad HD (1440 x 2560 pixels) display - since this seems to be what Samsung's and LG's flagships will be using.
Oppo is already teasing a Quad HD smartphone (the
Oppo Find 7
, which should be launched in the near future), so OnePlus may follow.
At the moment, we don't know if the OnePlus One will be released outside of China. However, since most announcements regarding it are in English, we assume that it will. We'll certainly keep an eye on this and let you know when more details are available.
source:
OnePlus