Crowd-funded breathalyzer for smartphones predicts when you can legally drive again
7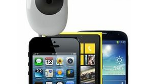 Here's a nifty little accessory for smartphone users who like to imbibe. The
Floome
is a pocket-sized breathalyzer that works by plugging into the headphone jack of your Apple iPhone, Android or Windows Phone flavored device. The Floome integrates with an app that can be downloaded from the appropriate applications store and uses the same technology that you will find in professional models.
Not only will the Floome display your blood alcohol level, it will also take your weight and gender into account and tell you what time your blood alcohol level should drop back to legal driving levels. The device will also remind you to retest yourself. According to the Indiegogo page for the device, the readings are within
10%
of the readings obtained by the cops.
The Floome (not to be confused with the Flowbee hair cutting system) will be available in 5 colors if Italian company 2045Tech can get the funding that the company is looking for. The firm hopes to raise $135,000 by June 8th, but with only
$7248 collected
and just 9 days left, it doesn't look good. That's despite some positive words from the inventor of the accelerometer.
The device is expected to be priced at $80 if it goes on sale, but those who send in $65 will get a voucher for a black Floome although shipping will cost you $10. The product is supposedly going to ship in October. Bottom's up.
source:
Floome
via Tom'sHardware,
WMPoweruser