Cross-platform web apps arrive to your Android homescreen with new Chrome beta 31
8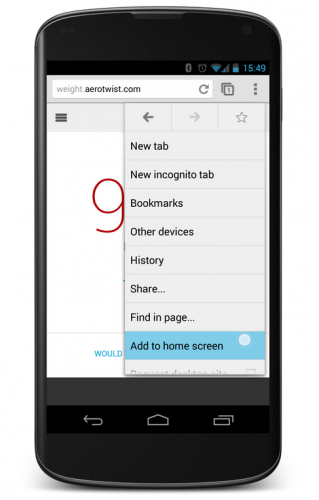 Google has barely rolled out the last update of Chrome for Android, where it introduced
gesture support
, and now it has a new beta with some awesome new features.
The new mobile Chrome beta finally brings about putting web apps on your Android homescreen, or, as Google puts it: "
Application shortcuts: Easily add any website shortcut to home screen via menu. Some websites will open in a full-screen, no browser UI experience
". Apart from that development, the Chrome update will sport refreshed New Tab page that loads much faster, and also a Web Speech API.
Adding the webapp experience to Chrome for Android is huge, as developers can build cross platform app-like experiences that will appear as a homescreen icon just like regular applications, and be integrated in the task switcher as separate entities.
When users tap on their icon, they will open as an app, without all the browser paraphernalia like address bar or bookmarking. This could be a fine way to circumvent app stores and their restrictions or requirements, as well as build one-app-fits-all projects, not having to port them for each mobile OS first.