Craving the Japan-only Sony Xperia Z4? Find solace in downloading the official wallpapers
12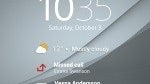 Unless you reside in the delightful country of Japan, the
Sony Xperia Z4
is only a distant dream, a mirage of past greatness, troubled present, and uncertain future. It also seems like a pretty good smartphone, even though it's such a faithful example of
evolutionary design
, it's as if Sony literally sent an intern to check up on what's considered flagship hardware in 2015, then stuck the spec sheet into last year's phone, and called it a day!
But hey, if that's what it takes to stay afloat on the Japanese market, then so be it. We've already been clued in that the rest of the world is to await
a new device with more meaningful differences
in design and experience. Until we see how this pans out, we recommend pouring XDA developers' a.hamameh96 a beer and downloading the wallpapers he extracted from Sony's Xperia Z4 Style Cover wallpaper apps. Yes, you may not know it, but the Z4 Style Cover cases sold in Japan come with dedicated wallpaper apps in the Play store. The wallpapers match the cases' colors.
As the great Japanese masters say, grab the images from the gallery below. Just double click/tap on a picture, then save it to your device.
Recommended Stories