Cracking iPhone, Android passcode, files, logs, location data is a piece of cake (video)
4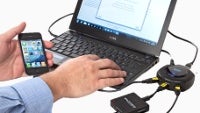 If somehow you forgot that your smartphone stores way too much data about you, this here demonstration of how easily law enforcement agencies can
get the passcode, files, call logs, location data
and even your every keystroke is frighteningly sobering. Swedish security experts Micro Systemation sell their XRY software to law enforcement and military agencies and it's scarily fast and efficient in cracking your most sensitive personal data on a smartphone.
How does it do it? We have no idea, except that it obviously uses an exploit similar to the exploit used to jailbreak devices and it seems to be a well protected secret. Also, it looks that you can't just go and pay a couple of hundreds of dollars and buy the software, but it's already in the military's disposal. Actually, the US military is currently the company's biggest client.
Accessing the personal data in often cases takes less than two minutes. On one hand it's a great tool for gathering evidence against criminals, in the other - it could give away sensitive information if misused.
The company is currently selling the software capable of accessing pass-protected iOS and Android gadgets in over 60 countries. Of course, the company's business is thriving. It recorded $18 million in revenue in 2010, and it's growing.
"It's a massive boom industry, the growth in evidence from mobile phones," says the company's marketing head Mike Dickinson. "After twenty years or so, people understand they shouldn't do naughty things on their personal computers, but they still don't understand that about phones. From an evidential point of view, it's of tremendous value."