Coupon code lets you take 30% off Samsung Galaxy Gear on T-Mobile's website
15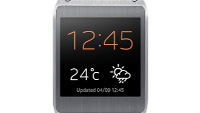 If you're a T-Mobile customer seriously contemplating the purchase of the Samsung Galaxy Gear smartwatch online, STOP! How would you like to save $90 on the purchase of the watch? That got your attention, didn't it. Well all you need to do is enter the coupon code "FALLFUN30" when checking out and the price of the watch will be reduced to $209.99. The regular price of the timepiece is $299.99.
Perhaps with the money you save, you can use it toward the purchase of a T-Mobile branded
Samsung Galaxy Note 3
, because that is the only phone that the watch will work with. Speaking of the Galaxy Gear smartwatch, we showed you
a couple of cool commercials that Samsung has produced for the watch
. While there are the expected comparisons to fictional watches worn by Dick Tracy and George Jetson, you don't see those two having to carry a smartphone around with them for their watches to work.
Getting back to the coupon code, it works only on T-Mobile's website and since we don't know when the discount will end, if you really plan on purchasing the device through T-Mobile, might as well do it now and save the $90.
source:
TmoNews