Corning's new glass offers sapphire-strength scratch resistance
24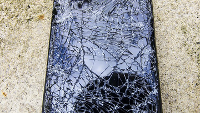 Apple
never delivered on the sapphire glass displays
that were expected for the
Apple iPhone 6
and
Apple iPhone 6 Plus
. Churning out millions of sapphire glass screens
turned out to be tougher than Apple thought it would be
. Still, the experience hasn't deterred Gorilla Glass maker Corning from working on its own product that could compete with sapphire.
Corning's new
Project Phire
was announced Friday at an investor's conference in New York. The material provides the same protection from drops that Gorilla Glass offers, with the scratch resistance capabilities of sapphire. Corning executive James Clappin reminded those in attendance that sapphire can break when dropped, making this new product a better all around choice for smartphone manufacturers. The Project Phire glass would combine the strengths of both Gorilla Glass and sapphire, which happens to complement the weakness of both materials. Gorilla Glass scratches more easily than sapphire.
"We told you last year that sapphire was great for scratch performance but didn't fare well when dropped. So, we created a product that offers the same superior damage resistance and drop performance of Gorilla Glass 4 with scratch resistance that approaches sapphire."-James Clappin, Corning
Sapphire glass is used on the
Kyocera Brigadier
and some other handsets, and despite
the problems that Apple had with GT Advanced Technologies
, it will certainly try again to use the material. After all, it does use sapphire to cover the camera lens and the Touch ID fingerprint scanner on the iPhone. And some Apple Watch models will come with a sapphire screen. The material is the second hardest in the world after diamonds.
source:
CNET