Corning confirms that the Samsung Galaxy S III uses Gorilla Glass 2
35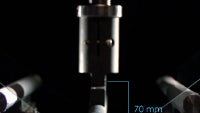 Not that it will come as any consolation for the guy who
dropped his Samsung Galaxy S III face-down recently
, but Corning itself confirmed that the new Android flagship is indeed protected by its most advanced creation to date - Gorilla Glass 2.
Haeng-Hee Lee, president and general manager of Corning Korea, said:
"We are excited about the introduction of Corning Gorilla Glass 2 because it provides device makers with numerous design benefits without sacrificing toughness. With Corning Gorilla Glass 2, Samsung GALAXY S III customers will enjoy an enhanced smartphone experience
."
Gorilla Glass 2 is as impact- and scratch-resistant as the first iteration, but the layer is 20% thinner, allowing for slimmer, more compact devices. Watch a promo how tough this glass is in the video below.