Cook says Apple is working on a secret project, most likely the Apple iWatch
24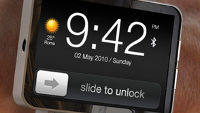 At Apple's stockholders' meeting on Friday, CEO Tim Cook might have been talking about the Apple iWatch when he mentioned a "secret project" that he wasn't at liberty to discuss. The project came up when the executive was questioned about U.S. made projects and Cook mentioned the plant in Arizona that a supplier is using to produce sapphire glass for Apple. The executive quickly mentioned that other companies in the U.S. produce glass for the iPhone.
Last month, we told you that despite
test runs of sapphire glass screened iPhones produced by Foxconn
, yields have not been that great which would mean that using the material on Apple's iconic smartphone would entail
the kind of price hike that consumers would not favor
. On the other hand, Mark Shuttleworth, Canonical's top executive, claimed last month that
Apple had cornered the market for 4.5 inch sapphire glass smartphone panels
.
We still expect to see the material employed by Apple for the "secret project" which would have to be the Apple iWatch. And while Cook did say that the company is working on new products, he did say that it was important to maintain a high level of secrecy. Otherwise, the competition would know Apple's roadmap. The CEO says that Apple is "
getting ripped off left, right and sideways
."
Cook brought up the "F" word when he pointed out that 82% of Apple's 800 million devices are running iOS 7 compared to the 4% of Android devices powered by Android 4.4 and higher. He also noted that several billion messages are sent using iMessage and that there are 15 million to 20 million FaceTime video chats made daily.
He also announced that within 60 days, Apple will announce plans to repurchase $60 billion of its shares by 2015. He also stressed that Apple should be a long term investment and told those looking for a quick buck not to invest in the company. He also said that some of his business decisions might be based on things like human rights and environmental factors rather than return in investment.
source:
WSJ