Did Apple corner the market on 4.5 inch sapphire glass displays?
14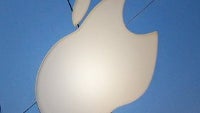 The top man on the Canonical totem pole, Mark Shuttleworth, might have directed his ire at Apple and as a result, revealed a key secret. Shuttleworth stated in a teleconference that Apple snapped up three year's supply of the 4.5 inch sapphire glass panels that Canonical was going to employ on its Ubuntu powered handset called the Ubuntu Edge.
The Edge raised $12.8 million as a crowd-funded Indiegogo project, but was canceled when the targeted amount of $32 million in funding could not be met. The Ubuntu Edge was to feature a 4.5 inch screen, but use a different aspect ratio than the 16:9 used by Apple for its iconic smartphone. That is another interesting tidbit.
Apple has been rumored to be looking at replacing Gorilla Glass with sapphire screens, and earlier this year
Foxconn allegedly built 100 prototype iPhones using the material
to test its manufacturing prowess using sapphire glass. A later report stated that
sapphire glass will not be ready for the next-genertion iPhone
, but will be used on Apple's long rumored iWatch. Apple does use sapphire glass on the rear-facing camera and to protect the TouchID fingerprint sensor on the
Apple iPhone 5s
.
"Apple just snapped up the entire three-year supply of the same sapphire display we wanted for the Edge."
-Mark Shuttleworth, Canonical
Apple is outfitting a factory in Mesa, Arizona into a sapphire glass manufacturing center,
designed to produce as many as 100 to 200 million 5 inch iPhone displays a year
. There are quite a few explanations for the deal Apple has apparently made to corner the 4.5 inch sapphire glass panel market. Apple might have signed the deal before its agreement in Arizona with GT Advanced Technology, or the latter deal could cover a different product than the one that will use the 4.5 inch panels.
There have been some convincing rumors stating that
Apple will produce two different variants of its smartphone this year
, one with a screen between 4 and 5 inches, and another with a phablet-sized display between 5 and 6 inches. This dovetails with another rumor that Apple is buying 5.6 inch sapphire glass displays for a phablet that will not use the Apple iPhone brand.
source:
GigaOM
via
AppleInsider