Control your Apple iPhone with your brain waves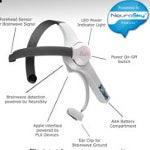 Imagine a world where the touchscreen is passe and smartphone owners use their brainwaves to navigate around the screen. Well, that future is here now thanks to a company named PLX Devices. The firm has developed the XWave brainwave detecting headset for mobile devices.
As PLX says on its web site, the headset "can sense and detect human brainwaves, interpret them and connect it to everyday technology." The device looks like the headsets that telephone operators used to wear and costs $100 and the company offers apps for iOS devices only for the current time. There are 4 apps available now-the basic set-up app, an app that will "upload your song list and sync your brainwaves with any song in your library", a "Tug of Mind" app; and one for meditation. The company says that the headset is harmless because it listens to brainwaves and does not transmit any signal.
So what does the future hold for such technology? On its web site, PLX says that in the future, "you will be able to control and float objects in video games by simply thinking about it, or train your mind to focus and relax on command." Company founder and CEO Paul Lowchareonkul says, "The human brain is the most powerful, complex thing in the universe, and for the first time, we're able to harness its amazing power and connect it to everyday technology. With the development of 3rd party apps, the potential for innovation is limitless."
For more information on the XWave headset, check out the sourcelink.
source:
PLXWave
via
CBSNEWS