ColorWare takes on the BlackBerry Torch 9800
0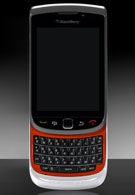 RIM's first BlackBerry OS 6 device may not be the sexiest phone on the block, but we do happen to think it's one of the company's nicer-looking designs in recent history. Regardless of your opinion on the handset's general aesthetic appeal, one thing the Torch definitely
isn't
is flashy. But for those looking for a little more shock and awe from their new BlackBerry, ColorWare has just announced that it'll be customizing the phone in just about any color combination your ostentatious little heart desires.
Customers can choose from a wide range of colors for each of the phone's 6 paintable surfaces (front, top, keyboard, sides, frame, and back), and we have to admit, the company's
configuration page
is strangely addicting. Pricing is set at $250 to send in your own phone, or $1,050 to buy a brand new one - and for an extra 250 bucks, customers can forgo the preset chromatic options and choose their own Pantone PMS color codes.
Sure, it may seem a little crazy to spend over $1,000 for a painted smartphone - but hey, you can't put a price on beauty.
source:
Engadget