UK retailer Clove stopped pre-orders for the Nokia 3, Nokia 5 and Nokia 3310 at HMD's request
1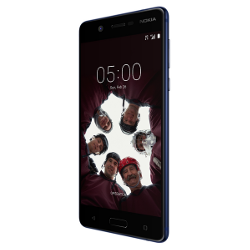 Yesterday, we told you that UK retailer Clove
had stopped accepting pre-orders for the Nokia 3310
feature phone, and had resumed taking pre-registrations. While a pre-order reserves a phone for the consumer who puts down money to make sure that a unit is held for him/her at launch, a pre-registration simply alerts the consumer via email when pre-orders are starting. Yesterday, there was concern by some Clove customers that pre-orders were canceled, although that doesn't seem to be the case.
An email sent out by Clove to customers today states that the pre-order option was taken down, not just for the
Nokia 3310
, but also for the
Nokia 3
and
Nokia 5
. HMD, the company that makes the devices and licenses the Nokia name, felt that Clove had advertised the pre-order option too soon and requested that it be taken down. Clove said that pre-order demand for all three phones was very high.
Clove indicates that the pre-order option could be back up as soon as this coming weekend, and adds that the expected launch date of mid-June is accurate. Clove says that HMD could have some concrete dates to announce soon. The retailer was taking pre-orders for the equivalent of $67 USD before taxes for the Nokia 3310. The Nokia 3 pre-orders were priced at the equivalent of $162 USD pre-tax, and the Nokia 5 had a pre-tax pre-order price equivalent to $205 USD.
Mystery solved.
"Thank you for the email.

We understand your concerns about the pre-order option having been removed from our website.

Demand has been very high, but please check back in a few days and you will be able to pre-order again.

Actually it is mostly a marketing issue – HMD / Nokia UK were concerned we had advertised the products for pre-order too early. We have spoken to them this week and agreed to remove the pre-order options for now. They will likely return at the weekend.

The dates listed on our product pages are as accurate as can be. It would seem all of the range are due to launch through June. We await more exact dates."-Email to customers from Clove UK
via
NPU