Cloud gaming technology over LTE demoed by Ubitus
1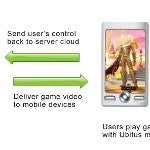 Ubitus is a company that provides cloud-based services for mobile devices, with its own client-side apps and all. The company demonstrated over Christmas mobile gaming over Japan's just-released NTT DoCoMo
LTE network
.
The idea is that all the heavy rendering and calculations for the game are done server-side, and then
streamed
as video to your mobile device, be it a smartphone, or a tablet. On the device's side, you have dedicated controls, which send signals in real time to the ubiLive servers, thus smoothly controlling action that would otherwise require a desktop gaming rig. This essentially turns your Android, Symbian, or iOS device into a game controller, which happens to be able to run and display even the heaviest 3D titles.
This type of cloud gaming services exist, but Ubitus is deliberately targeting mobile devices. With the advent of LTE and other "4G" technologies, the carriers' networks now have enough bandwidth to support such a server-based exchange in real time, so the company thinks there is a lot of potential for glory.
We'd love to be able to start a Black Ops session at whim on our
Verizon LTE
phones and tablets, and stream it to the nearest big screen, although we can't help but think about the downsides. With
touchscreen controls
, the old school gamers that play with a keyboard and a mouse, will most probably decimate us in no time. It all depends how the game controls are implemented on Ubitus's client side, i.e., our phones and tablets.
source:
Ubitus
via
IntoMobile