Close your eyes and you'd swear that this Samsung Galaxy S6 edge video was for the Apple iPhone
77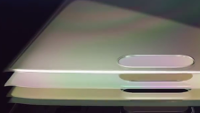 Whenever Apple unveils a new version of the iPhone or iPad, it calls on its SVP of design, Jony Ive, to do the talking on a short video that highlights the new features on the device. Apple also released a similar video when it unveiled the Apple Watch. These are the clips that are usually satirized on comedy shows like Saturday Night Live.
Samsung recently released a video explaining the design and craftsmanship used on the
Samsung Galaxy S6 edge
. From the music in the background to the British accent of the narrator, you could close your eyes, replace the Samsung name with Apple, and think that you were listening to Jony Ive talking about his company's latest release.
Even the copy written for the narrator has that Apple-esque quality. You can imagine phrases like "
We master impossible materials
," and "
We think in curves, manipulating the hardest materials
," rolling off the tongue of Jony Ive. Except that in this case we are talking about a Samsung produced ad for the Samsung Galaxy S6 edge.
Check out the video by clicking on the slideshow below. We've also included one of Apple's older videos for comparison reasons.
source:
SamsungMobile
,
Apple
via
SlashGear