Clearwire sells Class A and Class B shares to bring in $715 million
0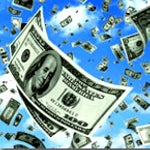 Struggling wireless broadband provider
Clearwire
bought itself some time by netting $715 million in two separate stock offerings. The company, looking to build out the first wide-channel
TDD-LTE 4G network in the U.S
, needs the funds to construct the pipeline and continue to provide users with its WiMax 4G service. Erik Prusch, president and CEO of Clearwire, said, "
The added resources will enable us to continue delivering 4G mobile broadband service to meet the rapidly growing demand in the industry. We remain ideally and uniquely positioned to serve both wholesale and retail customers well into the future
."
The nation's third largest carrier, Sprint,
owns a majority interest in Clearwire
, but at the same time has
locked itself into deal with broadband wholesaler LightSquared
while publicly announcing that it would
aggressively rollout LTE service to its customers
, replacing WiMax. Sprint reportedly
had given thought to buying the rest of Clearwire
that it doesn't own, but announced instead that it would
commit additional funds to the company
, preventing a default on a $237 million interest payment due December 1st.
Clearwire sold 201,250,000 Class A shares to the public at $2 per share which includes an over allotment of 26,250,000 shares. Sprint exercised its preemptive right to purchase 173,635,000 Class B shares. Sprint also purchased the same amount of units in Clearwire Communications LLC. Sprint's buying accounted for $331.4 million of
the total $715.5 million available to Clearwire
now that the transactions have closed.
In the deal that was agreed to between Sprint and Clearwire on the first day of this month, the latter can
earn a possible $1.6 billion
by selling LTE service to the carrier. Sprint is expected to
start selling LTE enabled smartphones by the second half of next year
at the earliest, most likely in the third quarter. Meanwhile, Sprint has agreed to support WiMax until 2015.
source: Clearwire