Chrome now used by 1.5% of iOS users, 3 weeks after release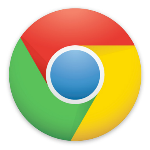 Undoubtedly, Chrome is a neat little browser used by many not only on their desktop computers, but on mobile devices too. In fact, its adoption figures have been rising even faster recently ever since the app was
released for the iPhone and the iPad
as well.
Chrome for iOS quickly became the top free app in the App Store
, and now,
about 1.5% of iOS devices are running it
, according to statistical data provided by
Chitika
. Sure, that doesn't seem like much, but a 1.5% share is quite an achievement given that the browser has been available for about three weeks only. Besides, the stock Safari browser is already pretty decent, so the demand for alternatives should not be that big at all. It is estimated that Safari is used on 85.6% of iOS devices, while other browers account for the remaining 13% of users.
Have you tried Chrome on your iPhone or iPad yet?
We did soon after it was released
, and the browser totally deserves to be checked out. It is available for free from the App Store, so don't hesitate to give it a shot.