Aaron Sorkin's outline of the Steve Jobs biopic doesn't include the iPhone
11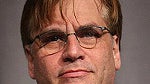 Soon after Steve Jobs' death, there were two biopics announced. One movie is planned to tell the story of the young Steve Jobs, played by
Ashton Kutcher
, and the other we didn't know much about other than that
Aaron Sorkin
would write it. There is still no actor attached, but at least now we know the structure of Sorkin's story, and surprisingly, it doesn't include the iPhone.
Sorkin said at the Hero Summit that the movie will be split into three sections, which will all run in real time. Each section will follow Steve Jobs backstage before three of his famous product announcements: the original Mac, NeXT and the iPod. As yet, this is still just an outline, so it may change, but if it holds true, it seems as though Sorkin may completely avoid the phenomena of the iPhone or iPad announcements.
This seems strange at first, but Sorkin is known for leaving out large pieces from stories in order to better fit to his vision. Most notoriously, Sorkin decided to make Mark Zuckerberg into a love-starved, horny teenager in
The Social Network
, and completely ignored the fact that Zuck had a girlfriend the entire time (the same girl who is now his wife).
It will be interesting to see how Sorkin's vision comes through, because Sorkin is someone who is only interested in the person, and not the technology (which again can be seen in
The Social Network
.) So, we expect it to be an interesting character piece, but it may not get too deep into the Apple-mania that the products have created. Sorkin says he just wants to focus on the "points of friction", and bring in key characters like Woz, ultimately ending with the words from the iconic "Here's to the crazy ones" ad.