Chinese Google rival Baidu builds its own Android platform Yi, Dell will back it up with hardware
13
And just like that another OS based on the Android platform has emerged: the Baidu Yi operating system. Why is it different?
First of all, it
targets China
, the market with the largest number of customers, but also one hugely dependant on localized content and second of all it comes from the hugely popular locally Google rival
Baidu
.
Third of all,
Dell is teaming up with the Chinese search engine
and may provide future devices.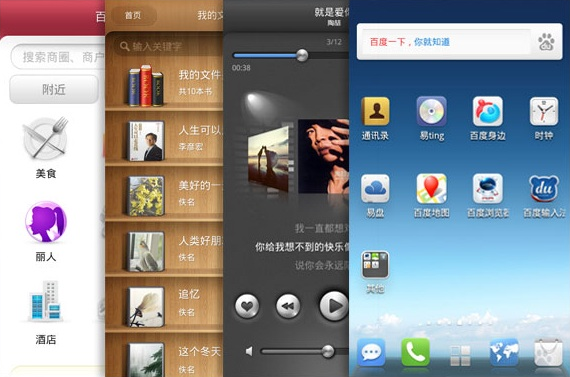 Baidu's Yi OS
But
what exactly is the Yi OS?
It builds on Android, in a way similar to how Android is based on Linux. It has a similar UI, but most importantly it has all of its content focused on China, which might turn out to be a big deal.
The standard Google suite of apps has been replaced with Baidu's own apps including Maps, a reader app called Yue, a Google Places alternative named Shen Bian and a powerful music application dubbed Ting.
Ting for once will offer licensed music downloads, while the platform in general will be tightly integrated with the cloud. Typing input is another swing factor for a Chinese OS and Yi in particular will come with an input-method editor for either typing or writing of
Chinese characters
.
Having Dell
, which is increasingly popular in China, manufacture the hardware will be also a huge deal, but while the US company has issued a vague statement about collaborating with Baidu, it hasn't pointed out any specific plans for Yi devices. It has however hinted strongly at tablets for once:
"We have a partnership with Baidu and you know we have the Streak 5 tablet, so the partnership will be in that space,"
a Dell spokeswoman said.
But if you expect only cheapo handsets for China, you might be surprised. Gartner Asian research director Sandy Shen doesn't think that Yi devices will exclusively target the low end, neither will they be limited to China only. We have our doubts about the latter, but we have to admit that - just as Shen points out - Yi can possibly use Dell's global outreach.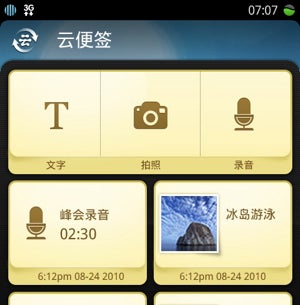 Aliyun OS
The Chinese market seems to be looking for an OS giving people more local content and recently Chinese e-tailer and eBay lookalike Alibaba unveiled its own mobile platform after years of secretly developing it - the
Aliyun OS
. While it's also founded on an Android base, the platform puts the focus on the cloud with AliCloud. It's not yet clear just what capacity that data center has, especially in comparison with the $1 billion capacity of Apple's Virginia data center. Going to the cloud however is expected to make upcoming tablets and smartphones on the OS cheaper. But back to the Yi platform, has Baidu found the recipe for success in the crowded smartphone market in your opinion?