China cements its position as world's biggest smartphone market, Samsung - as biggest manufacturer
29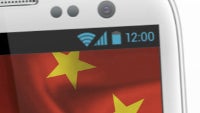 The latest statistical data shows that
China's mobile boom continues
as the country widened its lead while in terms of manufacturers Samsung sold more than any other phone maker in Q2 2013, according to the latest statistical data coming from analysts from Canalys.
China surpassed the United States last year to become the world's biggest smartphone market, and now the U.S. is a distant second. Smartphone shipments in China amounted to 88.1 million while there were 32.9 million smartphones shipped in the States in Q2 2013.
In terms of phone manufacturers,
Samsung continues shipping more and more smartphones
and in the second quarter of the year its shipments reached a whopping 75.6 million. Apple also grew its sales but modestly, to 31.2 million units.
What's particularly interesting is the growth of Chinese phone makers. Companies like Lenovo, Yulong with its Coolpad brand have quickly made it into the top 5 smartphone makers. ZTE and Huawei are in the top 10.
How will this evolve and can China grow even further? Feel free to chime in with your thoughts and check out the statistics right below.
source:
Canalys