Chen now 99% sure that BlackBerry will survive
99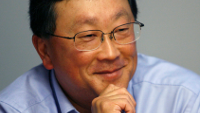 Yesterday,
BlackBerry reported its fiscal third quarter 2015 earnings report
. The company was cash flow positive and operating earnings showed a 1 cent a share profit, although on a net basis the company was 28 cents a share in the red. After the report was announced, BlackBerry CEO John Chen spoke with Bloomberg's Emily Chang about BlackBerry's turnaround.
When BlackBerry's CEO was asked about his chances of completely turning around the company, the optimistic Chen said that the odds were 99% in favor of his success. The executive also piqued our interest by saying that BlackBerry would be introducing a new software product next June that will convince those using two devices, to stick with just a BlackBerry instead.
When asked who was buying the new phones, he unsurprisingly said that many of those buying the
BlackBerry Classic
were coming from BlackBerry's installed base. Chen noted (as we have previously) that the Classic is a perfect fit for those who love the
BlackBerry Bold 9900
hardware, but want to have a device that runs the BlackBerry 10.3.1 OS build (which includes BlackBerry Assistant). The
BlackBerry Passport
is a different story, notes Chen. He sees new BlackBerry buyers purchasing the flagship model along with former 'Berry owners returning to the fold.
Chen also revealed that BlackBerry sold through 93% of its inventory last quarter. That is the kind of news that a CEO loves to hear and loves to repeat to investors. He also pointed out that BlackBerry is trying to catch up with back orders for the Passport, noting that lead times have been shrinking. Still, orders placed during the September through November quarter were still being shipped as late as December 12th, and those sales were not included in the just released report. Those orders could help BlackBerry report a positive surprise when it comes time to announce its fiscal Q4 results.
If you're a BlackBerry fan, you have to be pretty impressed by what John Chen has done in the 13 months since he
replaced Thorsten Heins as BlackBerry CEO
. Watching the CEO respond to these questions, it really does feel as though BlackBerry's survival is no longer a question mark.
source:
Bloomberg
via
Crackberry