Check out this video showing the Apple Newton taking on the Apple iPhone 6
26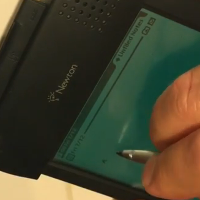 One of Apple's biggest commercial failures was its Newton PDA. You don't need an apple to fall off a tree and hit you in the noggin to understand that when it was released in 1987, Newton was quite an ambitious project for the tech titan. Two decades later, Apple introduced its most successful commercial device, the
Apple iPhone
.
The video embedded below shows a sentence being typed on the
Apple iPhone 6
, while someone else writes the same sentence using a Newton MessagePad 2000, which featured handwriting recognition. So which device is faster? Does the finger using the virtual QWERTY on the
iPhone 6
perform faster than a stylus being used on an "ancient" PDA?
The sentence being written, "
Now is the time for all good men to come to the aid of their country
," is completed faster on the iPhone, but not by as many seconds as you might think. It certainly shows that in hindsight, the Newton could be considered ahead of its time with some of its features. We should point out that the PDA running Newton OS
2.1
, could change orientation from portrait to landscape. That capability was also baked into the original iPhone all those years later.
The Apple iPhone vs. the Apple Newton. Check out the heavyweight battle yourself by tapping on the video below.
source:
Wohba,
r/Gadgets
via
Gizmodo