Check out this hilarious satire of what Apple's new product video for the iWatch might look like
40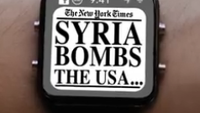 Syncing the Apple iWatch to your existing Apple iPhone is a snap. So says "Susie", Apple's COO/BAMF, in a hilarious satire of Apple's product videos that it likes to issue with the launch of each new device. According to this Apple "executive," syncing the timepiece with your iPhone allows you to make or take calls on your watch, "
even if your iPhone is in the next room."


Syncing the iWatch and the iPhone happens in the background thanks to "iSync." All you need to do is pair your iWatch with your iPhone. To do that,
"Put them together, make sure the 16 character code matches, bump them together, then input the 16 character code into each of the devices. It's really that simple
."
Apple's CEO, in talking about the new iSync technology, says "
we have taken it further than it needed to go
." Great stuff. Check out the demonstration showing how you can read the first Harry Potter book in the series, right on the screen of your iWatch. And don't miss how a movie review can be taken out of context, due to the small screen size of the timepiece. Other features include the battery that somehow was shoehorned into the watch, giving it one hour of stand-by time.
This is quite a timely satire considering that
WWDC starts Monday, and the real Apple iWatch could be unveiled then
.
source:
Matthias
via
CNET