Check out this ad for the BlackBerry Passport from South Africa's Cell C
14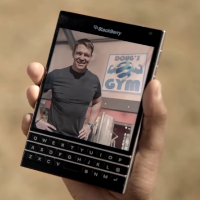 The
BlackBerry Passport
sold 200,000 units during the first two days after its launch
, selling out the available inventory. With its 4.5 inch 1440 x 1440 resolution screen, business software looks better and some applications show you the whole picture instead of just half. BlackBerry actually listened to its supporters. The phone is powered by the Snapdragon 801 CPU and has 3GB of RAM inside. And yes, there is OIS on the 13MP rear snapper, which has an aperture of f/2.0 for great pictures in low-light conditions.
A unique QWERTY keyboard adorns the Passport. Bereft of physical number and punctuation keys, these appear as virtual keys above the physical keyboard. And those virtual keys show up based on context. Browsing the web? You will see a virtual key for a colon (:) and a backslash (/). Typing an email? You will see a virtual key for the "at sign" (@).
South African carrier Cell C has just produced a cool 90 second television commercial for the BlackBerry Passport. A young child finds someone's Passport and in an attempt to return it, he ends up in a Ferrari, walking the red carpet at a modeling event, flying on a private jet, jumping from said plane, and finally returning the device to its owner. Let's hope that the kid got some sort of financial reward for returning that Passport.
source:
@BlackBerry