Check out these 5 weird and funny mobile games for iOS and Android
5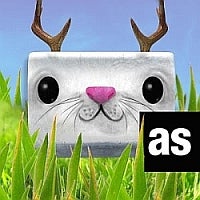 If you're a hardcore mobile gamer, then you probably know that there are bunch of heavy-duty games that you can play on both Android and iOS.
Here at Phone Arena, we've already rounded up about the
best fighting games
, the
best FPS games
, and so on. This time around, however, we attempted to bring a smile on your face. As such, we've compiled a list of the top 5 funniest games for Android and iOS.
If need be mentioned, these are not games that will appeal to hardcore gamers. Instead, these Android and iOS games are lightweight titles with funny ideas, a perfect recipe if you're bored of all the serious games available in the app stores.
Tofu Hunter
Tofu Hunter is a hunting game that makes fun of vegetarians. What we mean by this is that unlike with other hunting games where players have to take down virtual versions of real-world animals, Tofu Hunter has you hunting tofu-made animals.
Tofu Hunter may be a funny game, but the developers from Adult Swim have built it up to par with most other shooting games. It's just the prey that breaks the mold.
Tofu Hunter comes with several soy-based animals for you to kill in multiple environments. As you progress through the game, you'll be able to unlock multiple weapons, ranging from sniper rifles to machine guns and explosive projectiles. Of course, the best tofu hunters will receive Google Play bragging rights in the form of achievements and leaderboard domination.
Toilet Treasures

Toilet Treasures is a game that does not require any skills. It's just your luck that will help you find treasures ... in a toilet, if you believe it.

The mechanics of the game are fairly simple: use a pump to draw out stuff from a toilet. Depending on your luck, you can find all sorts of weird items that you can combine to create a new plunger.



Pizza Vs. Skeletons
Ever wanted to play the role of a skeleton-smashing pizza? Then you should check out Pizza vs Skeletons, one of the funniest 2D platformer games for iOS. Unfortunately, this one is not available for Android devices.
In this game, you play the role of a mean, giant pizza on a mission to destroy all skeletons. The game features hundreds of levels, lots of bosses, and will have you destroying skeletons in all sorts of places such as underwater, ski slopes, buildings, and even piramids. On the customization front, users can customize their pizza with new toppings and even some hats and wigs.
If you like cats (and this is the Internet, so who doesn't, right?), then The Battle Cats might just be the funniest mobile game you can currently get your hands on. The game has you raising mutant cat armies in an attempt to destroy all enemies in your quest for world cat domination.
In terms of mechanics, the game is similar to Plants vs Zombies games, but adds a twist in the fact that you need to take over an enemy base - not just defend yours - to complete a level.

What's particularly interesting about The Battle Cats is that cat soldiers evolve from seemingly harmless cats on to raging monsters that appear to be inspired by Japanese comic books. There are a ton of upgrades to unlock using the XP points that you gain with each battle, but you'll have to choose your upgrades wisely in order to achieve your task of world domination.


We'll end our list of the top 5 funniest mobile games with Mountain, a game that walks the thin line between funny and weird. If you're looking for a mobile game that breaks the rules, then Mountain may be exactly the title you're looking for.

The game's tagline reads "You are Mountain, your are God", and as it turns out, this is actually a pretty good sum-up of the game. There are no controls to the game, which makes total sense given that there's nothing you can actually do but watch as your mountain evolves from a simple rock to a magnificent geographical feature complete with all the natural processes a mountain possesses.
Unfortunately, the game seems to be plagued by compatibility problems on Android, as some devices are unable to render the mountain.