Check out the new TouchWiz on Galaxy S7 & S7 edge: themes, 'squircle' icons and more
21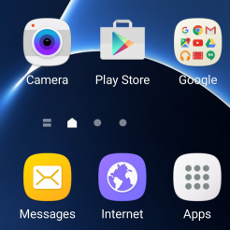 The
Galaxy S7
and
S7 edge
, as well as those Samsung handsets that have received their latest Android updates to a certain extent, are enjoying a new kind of iconography that Samsung rightfully calls 'squircles,' or circles trying to fit in squares. This is the most visible change in Samsung's updated TouchWiz interface that will stare at you starting from the lock screen, and continue to please your sense of aesthetics everywhere you go.
Samsung's TouchWiz icons and menus have always been a ragtag bunch, as with each subsequent update Samsung turned out with different styles applied to different sections, some round icons, some square, and don't even start us on the squarish look and feel of the notification bar with that blueish background. Well, the status shade is with a nice white background now, and there are plenty of other subtler changes to go around.
That's not all there is to it, though, as the Galaxy S7 and S7 edge have some unique features to offer, and their TouchWiz overlay has been updated accordingly. Check out most of the nooks and crannies of the latest Samsung interface as it appears on the Galaxy S7 and S7 edge in the screenshots below, courtesy of a lucky early adopter.