Check out the information that was taken off an Apple iPhone 5 using a Cellebrite machine
20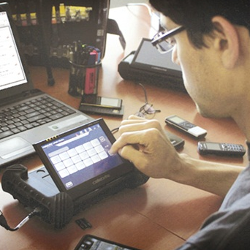 The Cellebrite machine has been around for some time now, helping carriers move over contacts lists and other data from a customer's old phone to the new one just purchased.
We used to confirm that certain models were about to be launched
by finding the name of the rumored handset on a Cellebrite machine.
Recently, information was leaked from a law firm that shows the depth of information that could be taken off an
Apple iPhone 5
running iOS 8. That build of iOS was the first to come with passcode related encryption, and Cellebrite says that it can't break passcodes on
Apple iPhone 4s
models and later. But the owner of this iPhone 5 did not use a passcode. This allowed a police department in California to use a dedicated computer to run Cellebrite on this particular unit, using a process that dumps everything in the phone's memory at the time. Some deleted material also appeared.
If you've ever wondered how much information can be squeezed out of a four-year old phone, you might be surprised. Information about the hardware itself is extracted, including the unique IMEI number and the phone number. The geolocation of every photo is placed on a map and a text conversation can be viewed including the recipient's phone number and the exact conversation from both sides. Also revealed are usernames and passwords for accounts used on the phone. In this case, a username and password was retrieved for Instagram.
All wireless networks that the phone connected to are listed as are phone numbers of incoming and outgoing calls, and the time that the call was placed or received. Contacts lists, notes, voicemails and more all were made available, which you can see for yourself by clicking on the slideshow below.
Now that you've seen this, you can understand why law enforcement is so determined to break into handsets belonging to certain suspects. At the same time, you can also understand why Apple was equally determined
not to let the FBI open the Apple iPhone 5c that belonged to the deceased San Bernardino shooter
, who did use a passcode.
source:
ZDNet