Cellebrite machine outs Motorola Calgary/Devour for Verizon
This article contains unofficial information.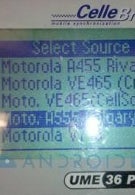 The Cellebrite machine is used by carriers to transfer contacts from one phone to another. When a device makes an appearance on the gadget, it's usually a good sign that the device will soon be launched. Perhaps that is why our interest is piqued by the inclusion of the Motorola Calgary/Devour on the machine. The Calgary is another Android flavored Motorola handset and will feature the MotoBlur social networking-centric UI. As we previously
told you
, the Calgary QWERTY keyboard has received very good reviews from those who have used it, saying that it is an improvement from the DROID's side sliding landscape QWERTY thanks to spacing in between the keys; the phone itself is supposed to be easier to use than the DROID's. But spec-wise, the Calgary/Devour does not live up to its sister unit as it sports a 3MP camera and runs on the EV-DO rev. 0 network as opposed to the speedier rev. A that the DROID uses. No launch date has been announced and pricing is unknown. But with the Cellebrite machine acknowledging the existence of the phone, it shouldn't be too long before Verizon customers have another Android device made by Motorola to consider.
Motorola Calgary Preliminary Specifications
source:
AndroidCentral