Check out the Galaxy S4's beautiful and completely recyclable retail box
67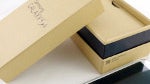 With its newest devices like the Galaxy S4 and Galaxy Note 8.0, Samsung is also introducing a new product packaging design. The new Samsung boxes look pretty awesome, but what's even cooler about them is that they are made of 100% post-user recycled paper, and are printed using soy-ink. In short, they are completely recyclable and environment-friendly.
We absolutely love this new initiative by Samsung. In the past, only certain models that were specifically designated as "green" came in such kind of packaging, but this is the first time that a manufacturer decides to adopt it for all of its products moving forward.
Well, what else can we say - Samsung once again proved that it deserves to be at the top of the mobile industry food-chain!