True bargain: Samsung Galaxy Note 5 for $180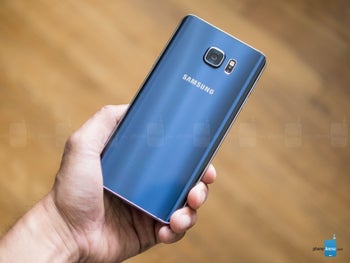 Samsung's Note line is insanely feature-packed and has recently become incredibly expensive, too, with a starting price of $950. When we reviewed the
Galaxy S9+ vs the Note 8
, we noted (he-he) that you should only get the phablet if you care about the S Pen stylus, since the S9 has the newer hardware and lower price tag.
And, really, the stylus experience with Samsung's S Pen is exceptional. Anyone who enjoys writing by hand or sketching on a digital canvas will have a blast with it. But you can't go by our word alone — if you haven't tried it, it's a good idea to test a Note phone for a prolonged time before splurging out $950. Well, what if you've never had the chance to touch one?
Well, while out deal-hunting today, we noticed this gem here — a refurbished
Galaxy Note 5
with visible scuffs and marks, in gold, with 32 GB of memory, for $180.
Sure, it's not the latest and greatest in hardware, but it's still decent, especially compared to today's midrangers, and the Note 5 still does hold a special place in our collective heart. It's the last Galaxy Note phone to have a flat display, before Samsung decided to go all-out with its
Edge
screens. Yet, it's the first Note to rock the Project Zero design philosophy — the all-metal frame, the glass back, the shiny finishes... And it also has
wireless charging
.
It's a great deal — whether you want a backup device, but don't want it to be a run-of-the-mill low-tier phone, or if you want to get acquainted with the S Pen or even just want to play with Samsung's interface (the Note 5 was updated all the way up to Android 7 Nougat) — give it a consideration.