Google's new universal messaging effort for Android to be called Chat
16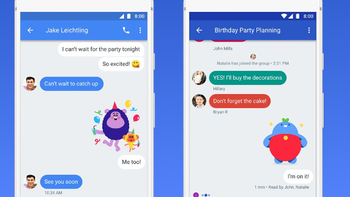 Google is stopping work on its
Allo
communication app for Android, and moving most of the team to a new venture called Chat, it seems. Now is the time for the obligatory eye roll when talking about the search giants efforts to unify messaging on Android phones to be more like Apple's iMessage closed garden.
First there was
Google Talk
, then there were
Hangouts
, then
Allo and Duo
split the video and text chat duties for some reason, and now Allo is being given the boot for the sake of Chat. Yep, it's a great name, we have to admit, and Google better not screw this effort up.
The kicker with the new Chat project is that it is said to use
RCS text messaging
, or a richer media standard that still works within the framework of the carriers' tried and true texting equipment. This way, even when somebody on the receiving end doesn't have Chat, they will simply get the messages like regular texts, and be able to answer. The issue, of course, are the carriers, which have to onboard Chat for their networks, but Google is apparently in talks with them to let it be.
There is such a great variety of Android phones out there, that using RCS was perhaps the only feasible approach for a unified messaging experience on Google's mobile OS platform. The stock
Android Messages
app that most phones already have is a great starting point. RCS is universally supported, and would allow for the usual chat shenanigans we are accustomed to, like rich media sharing, but at the same time it has one huge drawback - it's not encrypted. In this day and age, this could prove to be yet another insurmountable hurdle for Google towards the goal to create a truly useful go-to messaging app for Android.