Chase says over 1 million customers are using their credit and debit cards with Apple Pay
4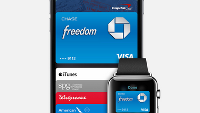 JP Morgan Chase held its 2015 Investors Day on Tuesday and said that 1 million of its customers are using their credit and debit cards with Apple Pay. Other statistics released by the financial institution show that Chase's Apple Pay users are younger and tend to have higher income than the bank's other customers. In fact, the average Chase Apple Pay user is 9 years younger than the typical Chase customer, with 21% higher income. Last month, Bank of America announced that
800,000 of its customers had provisioned 1.1 million credit cards to Apple Pay
.
Only operational for four months, Apple Pay is forecast to show strong growth this year by none other than Apple CEO Tim Cook. Cook has called 2015 "
the year of Apple Pay
." The service works with the
Apple iPhone 6
and
Apple iPhone 6 Plus
. Once the Apple Watch launches, the timepiece will also support Apple Pay
The mobile pay industry was flying under the radar until Apple Pay launched, raising the visibility of such systems. Recently, there has been a flurry of news with
Samsung agreeing to purchase LoopPay
for an undisclosed amount. Unlike Apple Pay, which relies on NFC connectivity, LoopPay uses the magnetic strip on the back of a credit card to read information. Because almost every retailer uses a magnetic strip reader, Samsung's newly acquired service can be used in 10 million retail locations as opposed to the roughly 230,000 locations that support NFC and Apple Pay. Samsung says that the LoopPay system will be on the
Samsung Galaxy S6
out of the box.
On Tuesday, Visa announced that it will introduce tokenization in Europe. This is the method that replaces a credit card number with a unique number as a security method. Since this is used in Apple Pay, it looks like Apple's mobile pay system will soon be launched internationally. That is really not a surprise. Late last year, Apple was rumored to be in talks with U.K financial concerns about
rolling Apple Pay out in the U.K. during the first half of this year
.
source:
AppleInsider