Et tu, Charter, with the $45 unlimited data plan? Spectrum Mobile launching soon...
5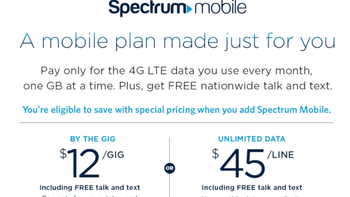 Charter, your cable TV and broadband internet provider, may follow in the footsteps of
Comcast's Xfinity offshoot
, and launch a cell phone service of its own, just as it was rumored way back in 2016. You see, there's AT&T, Sprint, T-Mobile, and Verizon, which have their own towers, and sell directly to customers. Further down the food chain stand the MVNOs - Mobile virtual network operators - that use the networks of the top dogs, and buy in bulk to offer their own plans with a bit of overhead, such as Cricket, Boost Mobile, Metro PCS, Straight Talk, Virgin Mobile, and so on.
This lucrative business didn't escape the attention of cable companies, too, and Comcast teamed up with Verizon to offer its own Xfinity Mobile service bundles for the 20+ million customers it has. We now have a report Charter will be doing the same thing with Verizon as well.
The way that Charter will be offering their wireless service is actually quite similar to the plan that Comcast outlined. Charter will utilize Wi-Fi hotspots that are already offered through their Internet service to power their customer's wireless network. However, when these hotspots aren't in range for their customers, they'll still be able to make calls, send texts, and use mobile data through Verizon's network.
Charter also has 20+ million clients across the US, and its cell service will be called Spectrum Mobile, launching as soon as June 30th, about a year after Comcast's Xfinity Mobile that now charges $45/month for unlimited data, with a 20GB throttling cap in peak usage times. Charter's Spectrum will... surprise, surprise... reportedly also charge $45/month for unlimited, with $5/GB going directly in Verizon's coffers - they provide the network, after all.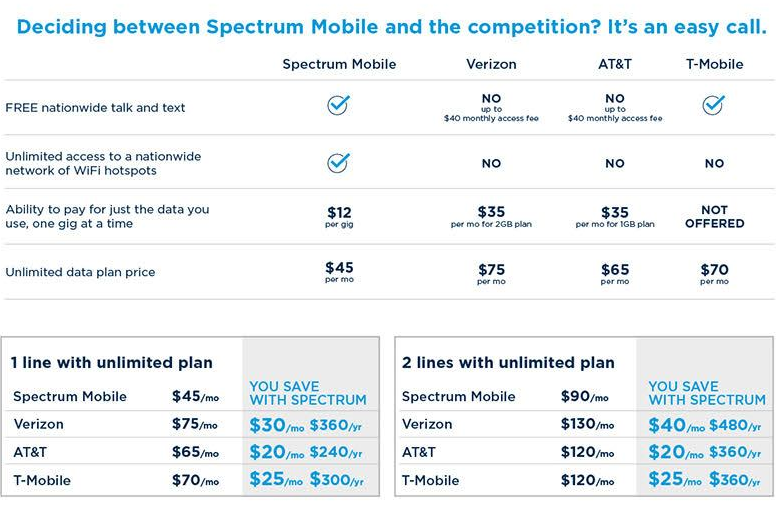 There are no "data deprioritization" cap details at the moment, while if you are paying per GB, the charge will reportedly be $12, just as with Xfinity, so you are basically looking at a direct Comcast competitor, and some fierce competition from these two cable providers in the near future. Good, we'll all need a bit more competition, given that Sprint and T-Mobile may tie the knot very soon.