Charge your iPhone with a tank
4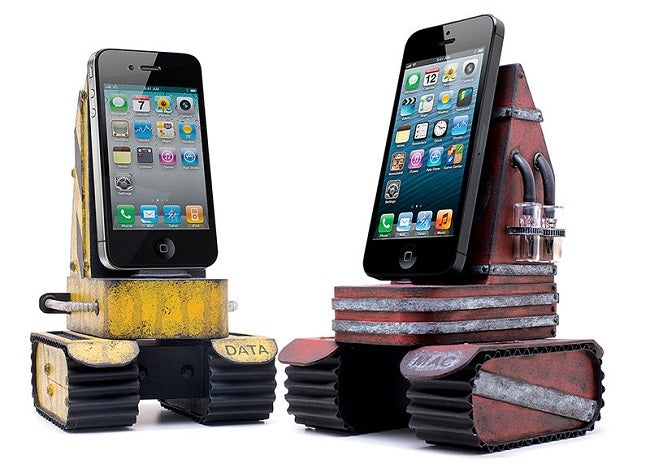 Love it or hate it, the iPhone has proven itself to be an inspiration for a massive array of accessories.
We have seen some unique and useful gadgets over the years. We have also seen some that, how shall we put it politely, were less than useful or not so novel. These Custom iPhone Tank Chargers serve a purpose in that they will charge your iPhone 5 or 4/4S, and that makes them arguably useful. The appearance of these chargers is unique and that makes them a novelty. The fact that they cost
$395.00
and do not so much as move, or have a turret that shoots little foam pellets, or do anything really other than charge the device pretty much wipes out the novelty or perceived usefulness. Unless, you are the type, or know the type, of person that already has everything, then this is an object that might find a place in one of the rooms of a mansion somewhere.
The Tank Charger is hand crafted, and each one is unique, so that may lend some value to people that have an eye for such things. Designed and crafted by PHU, an established toy designer of tech accessories, the Tank Chargers have a few base designs. However, if you are willing to pay, PHU will design and build a custom dock just for you (including a tank for your iPad).
The cable is built in and the appearance of the Tank Chargers has that rugged, worn look to them. There are a few base designs. First, there is the Noir Matte Black for the iPhone 5 which also comes with a custom kid robot, then there is the yellow and black DATA for the iPhone 4/4S, a grey and black TEC for the iPhone 4/4S, a red and grey M.A.C. for the iPhone 5, and finally the tan and red LYNX for the iPhone 5. They are sold exclusively by Four Corner Store in case you want to pick one up. Many are sold out but Four Corners says they get more on a monthly basis.
For $395 though, we would expect a remote control, moving treads, a turret and ammunition...charging the phone would simply be bonus.
sources:
Four Corner Store
via
DVICE
Custom Tank Chargers for the iPhone