Chapter One of Steve Jobs manga on sale now in Japan
32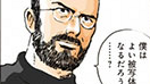 Earlier this month, we told you that
the Walter Isaacson biography of Steve Jobs would be turned into manga in Japan
. Having lived quite an eventful life during his
short time on earth
, Jobs' story is amazing enough without having to add the usual conventions seen in a manga. In other words, Jobs won't have to turn into a robot in a quest to bring people to life, nor will he encounter a notebook that allows people to kill someone by writing in their name. And we're pretty sure that the story won't turn into a quest by a little school girl to date the hero as she travels through different dimensions.
Actually, the manga, imaginatively titled "
Steve Jobs,
" will tell the story of Apple's co-founder from the point of view of
Walter Isaacson
, the author who wrote the best-selling biography of the executive. Chapter One is now available in Japan as part of the magazine
Kiss
, published by Japanese manga publishing house Kodansha. The first installment of the manga starts in 2004 when Jobs asks Isaacson to write his biography. Isaacson agrees, but holds off until he hears from Jobs' wife that her husband has cancer. The rest of the chapter deals with Isaacson's first impressions of Jobs, setting up the story for the next installment due next month.
Isaacon's book is also
the basis of a script written by West Wing creator Aaron Sorkin
that will be turned into a movie. So far, there has been no time frame released for the motion picture, and no announcements have been made yet about casting.
source:
@manganewsjapon,
Crunchyroll
via
AppleInsider