Changelog listing suggests that Samsung might be working on a Galaxy Tab S Pro slate
9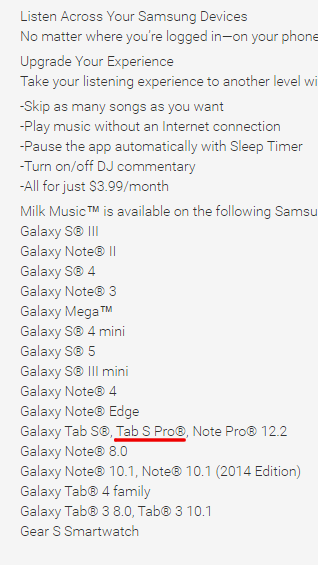 Recently, we've been hearing a lot about the tablets that Samsung reportedly is prepping to launch in 2015 - as a quick refresher,
these might be the successors
to the
Tab 4 7.0
,
8.0
, and
10.1-inch Galaxy Tab 4
slates, as well as the second generation of the Galaxy Tab S family, which consists of the
Tab S 8.4
and
Tab S 10.5
tablets. In particular, the
Galaxy Tab 5 7.0
got caught being imported in India for R&D purposes. However, these rumors are everything but surprising, as it's more than sure that Samsung will refresh its device lineup in 2015.
What's surprising is that the South Korea manufacturer might step up its game some more this year with releasing a larger Tab S tablet with a Super AMOLED display to complement the Tab S 8.4 and Tab S 10.5 gadgets that also swear by the AMOLED display technology.
The slate might end up being called the Tab S Pro, as such a device has been mentioned by Samsung itself in a changelog accompanying the latest update to its in-house Milk Music app for Android. There's always the possibility that we are dealing with a involuntary mistake, but if we consider the best possible scenario, Samsung might be working on a quite large AMOLED display-toting tablet, probably around 12 inches in size.
These are pure speculations, of course, so take the Galaxy Tab S Pro with the same amount of salt you take all other rumors.
Meanwhile,
Apple has been also said
to work on a large 12-inch iPad Pro, but such a device has not made the rounds just yet.