Chameleon UI shows one possible future for Android skins
27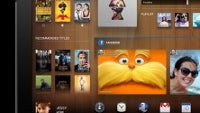 If you've ever taken a tablet in your hands and felt like its
user interface can make you weep
, you definitely need to watch this almost running prototype of the Chameleon UI. And a couple of tablet makers, as well.
Chameleon is more than a research project but it's not yet a running prototype. What it does, though, is it sketches some brilliant ideas, spices them up with animations (which could be smoother but we'll let this one fly by).
The user interface is made by the folks at Teknision and expresses their belief that a tablet OS could do more than just serve a plain dish of apps and notifications. Instead of the
"underutilized idea of home screens,"
Chameleon uses contextual dashboards.
Those are collection of just the right widgets for the right circumstances and look gorgeous. They all update dynamically, with relevant information about time and location. The dashboards smartly change depending on where and when the user is - a simple yet brilliant idea.
The experience is a step away from today's realities but it definitely looks a bit surreal, so get your fix of technological optimism in the video below, spruced up with a fancy soundtrack. Also, don't hesitate to let us know which manufacturers you think would benefit most from changing their graphical skins in the comments below.