Cellebrite's Textalyzer can tell the cops if you were texting and driving before an accident
6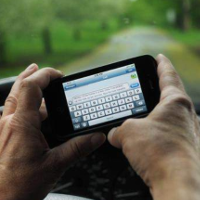 Your very own smartphone might tattle on you in front of the police thanks to Cellebrite's new Textalyzer. This feature would tell the cops whether a driver had been texting just before getting involved in an accident. In that regard, the textalyzer machine is similar to a breathlyzer in that it can be used at the scene of an accident to help determine whether the driver is culpable.
Cellebrite is the Israeli software company
that is believed to have helped the FBI crack open Syed Farook's Apple iPhone 5c
. And while texting and driving is a completely different issue than trying to force Apple to unlock an iPhone, the legal system is involved here too. New York legislators are trying to get a bill passed that would force the drivers in an accident to turn over their phones to be analyzed for signs of distracted driving.
The big deal with Cellebrite's new system is that it could reveal if someone was driving while texting without giving up too much information to the cops. A previous machine created by the company also spilled the beans if a driver was using his phone while behind the wheel. But it also gave the police the ability to scour for information that it had no business knowing.
If Cellebrite's new machine does become a tool for law enforcement, drivers will have to worry about being turned in to the cops by their own smartphone. For many that would be the ultimate betrayal.
source:
AndroidAuthority