FBI paying Cellebrite $15,278 to open Syed Farook's Apple iPhone 5c?
40
Just the other day, on the eve of what promised to be a three-ring circus inside a courtroom,
the DOJ asked a judge to cancel a hearing scheduled between Apple and the DOJ
. The government was trying to force Apple to develop a unique OS that would be used to unlock the
Apple iPhone 5c
used by deceased terrorist Syed Farook. The government hopes that the phone contains clues to the attack carried out by Farook and his wife that left 14 dead.
Apple's concern is that in building this so-called Govt.OS, someone will discover the code which would allow them to break into any iPhone in the world. If this were to occur, no longer would iPhone users feel secure about leaving personal information inside their phone. While Apple has been stonewalling Uncle Sam, the FBI has been looking for other ways to open up the terrorist's iPhone.
On Monday, the feds hit pay dirt. The FBI announced that it had found a third party to unlock Farook's phone. Who was this unnamed hacker who could do something that Apple said couldn't be done? According to Reuters, Israeli company Cellebrite is working with the FBI to open Farook's phone. You might recall that many carriers used to use a Cellebrite machine to move a user's phone contacts over from an old phone to a newly purchased one.
Another piece of information apparently confirms that the FBI is counting on Cellebrite to unlock Farook's iPhone 5c Twitter user Zen Albatross has discovered that the FBI signed a contract on Monday with the Israeli firm. Considering that Monday was the day that the FBI proclaimed that it had a third party that could break into Farook's iPhone 5c, it seems more than a coincidence that Cellebrite signed a contract with the FBI on the very same day.
So how much is the FBI paying Cellebrite to open a terrorist's iPhone? According to published information about the contract, the FBI is paying the company $15,278 to do the job.
Cellebrite's own website notes that it has the "unique capability" to unlock devices running iOS 8.x "in a forensically sound manner and without any hardware intervention or risk of device wipe." While that sounds like good news for the FBI, Farook's phone is powered by iOS 9. Still, there isn't any indication that the mobile forensics firm can't unlock iPhone models running that build.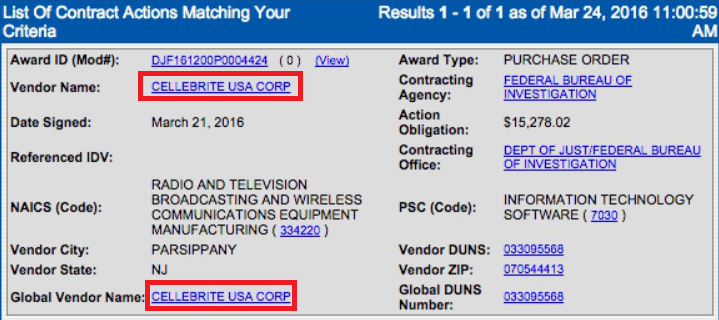 Cellebrite signed a contract with the FBI on Monday
source:
@zenalbatross
via
Reuters