Motorola Calgary caught in silver skin?
11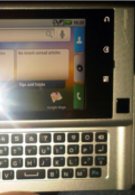 Merely a day after the new year started, Motorola's alleged Calgary has been photographed in its silver shell. It's still unclear whether or not Motorola will be launching this Android handset in a variety of colors to choose, but the silver casing harkens back to the RAZR days. From the information BGR has received, the QWERTY keyboard on this was "nice" and the phone was "easier to use" when comparing it to the Motorola DROID.
As you can see, there's some spacing in between the buttons on the QWERTY as opposed to the space-less ones on the DROID. MotoBLUR is in full swing on the handset which makes it somewhat more simplified to use. Finally we see a trackpad towards the lip and is heard to be a fantastic navigational control to get around the interface. In addition to offering the usual Wi-Fi, GPS, and 1420 mAh battery, there is no indication that it'll be a global ready device with the lack of a SIM card slot – it'd really be hard pressed to see this one get that treatment over the more powerful DROID. The paint job on this one may not please everyone, but it'll ultimately come down to personal opinion whether it's a deal or a dud.
Motorola Calgary Preliminary Specifications
source:
BGR