Cell phone user delays 70,000 train passengers in Japan
17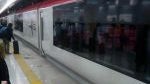 A simple cell phone call resulted in a 20-minute delay for over 70,000 train commuters in Japan. If you know anything about
Japanese trains
, you know that a 20-minute delay might as well be an eternity.
The problem occurred when one passenger encouraged two others to disembark in order to complete their respective phone calls. It's a generally accepted courtesy that you not make voice calls while riding the train, but it's not a law. The two phone-using passengers refused to disembark or hang up, resulting in a near-violent encounter.
A concerned passenger pulled the emergency alarm when they arrived at the Ichikawa station, summoning the police. The accuser then allegedly grabbed one of the men by the wrist, prompting the phone-user to accuse them of assault.
JR, the Japan Rail service, reports that 47 services were affected, delaying over 70,000 morning commuters. The accuser and alleged assault victim were taken to the police station for questioning, but both were later released without charges. What do you think? Can't we all just get along (or at least text)?
source:
Japan Today
via
Textually