Cat S61 hands-on: this phone shoots lasers and gives you thermal vision
5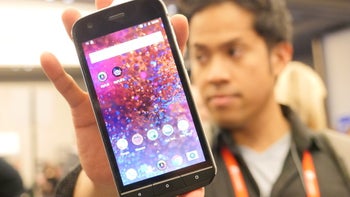 The Cat S61 is a big, ruggedized phone that can survive a 6-foot drop on concrete, can give you thermal vision superpowers and it shoots lasers, so when we saw the company's new handset at Mobile World Congress 2018 we were eager to see what it's all about.
The Cat S61 is a 5.2-inch phone with an LCD display, but it feels substantially bigger. The phone is built like a tank: tough, thick, with a rubberized back. It will fit inside a jeans pocket, but you won't be comfortable walking with this phone in your pocket. It's meant to be used for more extreme conditions and one thing is clear: it's not all that convenient for everyday use.
In exchange for this big compromise, the handset comes with three superpowers.
Three superpowers: thermal, lasers and organic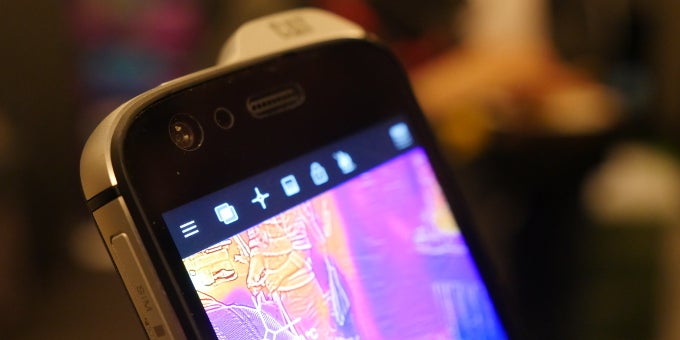 Predator vision with the thermal camera on the Cat S61
The S61, just like a superhero, has superpowers, but it's not just one: there is three of them.
The first one is thermal vision. The phone is equipped with a Flir camera on its back that gives you Predator-like vision. It is more sensitive than in earlier models and can sense temperatures of up to 400 degrees Celsius. There are quite a few possible uses for such a camera and all of those uses will be appreciated most by professionals: mechanics for instance will be able to use it to notice issues with an engine, construction workers can use it to diagnose electronic equipment and more. In real-life, it's just so cool being able to see the thermal footprint of everything around you. This camera works as expected and we encountered no issues with it.
Next up, the phone can shoot a laser at up to 33 feet (10 meters) and using this laser, it will measure distances with extreme accuracy (down to the tenths of an inch). We tried using the laser and you can indeed see the laser pointer and the accuracy is impressive. We imagine construction workers and others would appreciate having such a tool. Just don't point the laser at other people.
Last but not least, the phone also has a Volatile Organic Compound (VOC) sensor. We did not know what this means, so we asked for a demo. Cat explains that this sensor measures tiny particles in the air and is capable of detecting when they go over a certain limit. This will come in handy for those who work in cramped areas and are at risk of poisoning from wet paint or other hazards. The S61 can be set to take a reading with this sensor every 30 seconds to detect air quality and warns you if you are in danger.
The S61 as a phone: specs and more
Since this also happens to be a phone, let's quickly go over the specs. This is clearly a phone with mid-range specs:
Display: 5.2-inch LCD with resolution of 1080 x 1920 pixels
Chip: Qualcomm Snapdragon 630 with 4GB of RAM
Storage: 64 gigs of on-board storage
Battery capacity: 4,500 mAh
Cameras: 16-megapixel rear, 8MP front
The Snapdragon 630 chip shows that this is a phone that is meant to be frugal and combined with the 4,500mAh battery it should last more than one day, and possibly two days on average.
Is it worth $1,000?
But there is one big catch. The Cat S61 costs $1,000 (£799 in the UK and €899 in Europe).
Is that a fair price? It's hard to say when the S61 is basically the only phone in the world that offers the unique features that it does. It is obviously not meant for everyone, but for a few professionals and if those professionals are willing to deal with the big phone size, they will find that the three signature features work well. Will they prefer this phone over dedicated tools and a sleeker device? Well, this is one question that we cannot answer. What we can do is show you what the phone looks like, take a look at the slideshow right below.