Case images offer an intimate look at the Galaxy Note 5 from all angles
56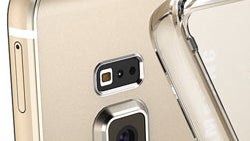 Galaxy Note 5
reports have been aplenty of late, and this latest tidbit offers a detailed look at the phablet's design and dimensions. Case leaks in the run-up to any new device -- particularly one has high-profile as the Note 5 -- tend to be rather hit-and-miss. But given reputability of the source and the recent outpouring of plausible info on the handset, the renders of this clear Galaxy Note 5 shell seem legit.
The Galaxy Note and Galaxy S series tend to share features, and with the latter having gotten a redesign with the S6 and S6 Edge earlier this year, it is believed that the next Note will too be treated to a more premium, metallic design. This means, as was revealed a short while ago, that the Note 5
will include a sealed
(non-removable) battery, and the new case leak shared by MobileFun seemingly corroborates this notion.
Sourced through case maker Rearth, it's quite clear that design cues will be taken from the S6, but that's not all there is to see here. For example, the tapered edges on the back along each side borrow heavily from the appearance of the Galaxy S6 Edge. This adds an air of finesse to proceedings, but there may be a trade-off as far as grip is concerned.
After the critical acclaim that met the aesthetic of the S6 Edge, it's no surprise to see Samsung branching the design out and into the next Note. With that being said, the fundamental elements of the Note line -- removable battery being of paramount importance to many power users -- could come back to bite Samsung on the ass, since it may alienate hardcore fans into seeking alternatives.
Indeed, if the Note 5 goes for a fancy design and baked-in battery, there's less to differentiate it from the rivalling iPhone 6 Plus and its forthcoming successor. This could work in Samsung's favor, of course. But with the collective S6 effort having
struggled to hit the expected heights
in terms of sales, you feel that Samsung has a lot riding on the Note 5 and the purported
S6 Edge Plus
, and it'll be interesting to see whether these two phablets prove successful.
What's your take? Check out the case images, and be sure to give us your pre-announcement verdict on the Note 5 via the comments.